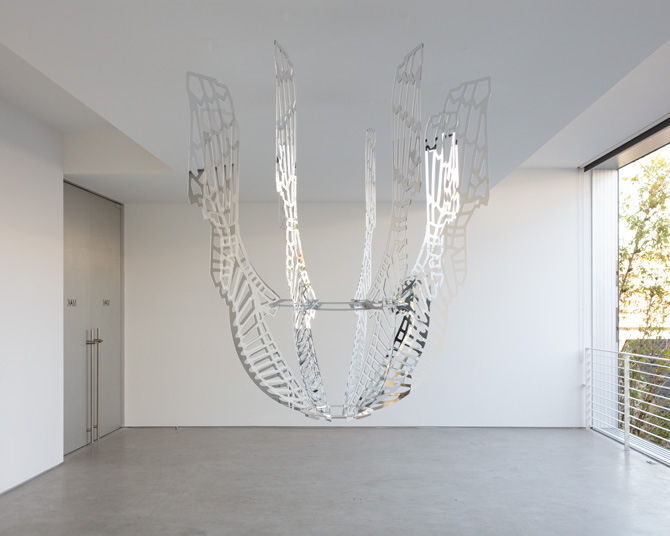 Inverted Dome is an inquiry into the dynamics of light, technology, and perception generated by public architecture.
The exhibition's central feature is an installation that reimagines the U.S. Capitol Dome as an inverted, open, and almost unrecognizable structure made of mirror, reflecting back both the environment and itself. Images of the Capitol Dome are continuously propagated by media organizations of all kinds—reproduced on web pages, news broadcasts, and social feeds—as if the building's image has come to represent structures of power that are otherwise too abstract to locate. The room-sized installation is a container for holding and focusing light and its refractions, becoming a site for reflection on virtual mediation and transparency.
Inverted Dome references historical works of California Light and Space; augmented realities; architectures of the metaverse; considerations of public and private space; presence and absence; Monument to the Third International by Vladimir Tatlin; cryptography; information theory; and the mediation of power in daily life.
The exhibition includes an installation, a sequence of digital studies released online throughout the duration of the show, and a publication, which together suggest new spatial and experiential possibilities for public architecture.
The catalog essay Form and Content by Michael Ned Holte is available for download here.
The catalog essay Socle, Scale, Sequence concerning Inverted Dome and Digital Study #1 (Mirror Chain) by Chris Fite-Wassilak is available for download here.
And the limited-edition catalog that accompanies the exhibition is available for purchase here.
Kristin Posehn: Inverted Dome is organized by Aurora Tang. The exhibition is made possible with support from the Pasadena Art Alliance and the MAK Center Patron Program.